I've never joined a linky party before but I just knew that I had to be part of the Must Have Picture Book Linky that
Lindsey at the Teacher Wife
put together. What a great idea!! It's so hard to narrow it down to only five but here are the five that I just adore and MUST read every year.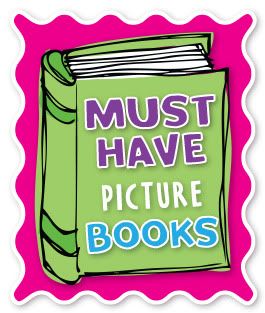 You can do so many different things with Strega Nona and I have used it to teach many different skills over the years. My favorite thing to do however, is to make the book "interactive" by writing the words to the pasta spell on a piece of chart paper before the reading and posting it by the reading area. When its time to say the spell in the story my students love singing the words and blowing three kisses into the "cauldron" in front of them. I, of course, love watching them do this even more! You can buy a copy
here
.
The True Story of the 3 Little Pigs is such a fun book. It's a great way to compare and contrast versions of a story or to introduce point of view. Grab it
here
.
This is a wonderful and heartwarming story thats full of imagination but that also teaches about responsibility. The pictures in it are just beautiful. You can read more about it by clicking
here
.
Thundercake is perfect for a stormy day especially if you have kiddos that are scared of thunder. In the story the grandmother helps her granddaughter face and overcome her fear of thunder. There's also a recipe in the back for Thundercake that my students always make me photocopy for them - so they can make it at home the next time it storms out. Pick up your copy
here.
Whoever Heard of a Fird is my favorite picture book of all time. But I just now discovered that it is out of print :( I was hoping to buy a new copy this year because the one from my childhood is falling apart but it doesn't look like that will be happening since collectors editions are the only ones available and $100+ dollars. Does anyone else know this book? Anyone have connections in the publishing world to get this printed again? It is a wonderful adventure full of magical creatures and songs. The book contains a number of great lessons on the following topics: individuality, determination, family, friendship and acceptance. Read more about it
here
and let me know if you can get this back in book stores! :)